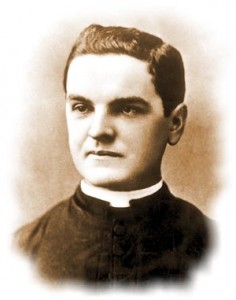 Every now and then at Mass, the Knights of Columbus carry out a Fourth Degree Honor Guard.  You may occasionally see guys wearing a Knights of Columbus t-shirt or a lapel pin on their jacket.  In this, my first contribution to the Saints segment, I present their founder, Venerable Father Michael J. McGivney.  He may not be a saint yet, but he should be. 
A Brief History of Anti-Catholicism In America
Anti-Catholicism is nothing new in the United States.  During the American Revolution, George Washington ordered against anti-Catholic demonstrations among his troops.  After the Revolution, Catholics who ran for public office were forced to renounce certain aspects of their faith.
Before the 1840s, America's Catholic population was very small.  An influx of immigrants changed that, Ireland being the main source.  With this massive increase of Catholics in America, Protestant objections to their institutional hierarchy, prayers for saintly intercession, sustainment by the Sacraments, necessity to perform good works, and erroneous view of less emphasis on the Bible were magnified.  In the days before anti-discrimination laws, it was fairly easy for employers to refuse jobs, promotions, and benefits to Catholic workers and their families.
Enter Father Michal J. McGivney.
Early Life And Ordination
The oldest of seven, Michael J. McGivney was born in Waterbury, Connecticut on August 12, 1852.  His parents, Patrick and Mary, like many others, were poor Irish immigrants.  Even before the death of his own father, he saw the seemingly institutional injustice with which Catholics were treated in the midst of their poverty and knew things had to change.
At age sixteen, he left his job at a spoon-making factory to begin priestly studies in Quebec.  He advanced his training in New York two years later, but temporarily withdrew to aid his family after his father's death in 1873; he returned shortly thereafter.  On December 22, 1877, he was ordained and celebrated his first Mass at Immaculate Conception Church, his home parish.  He was then assigned to St. Mary's in New Haven, where his vision of providing a better life for America's Catholics would see its origins in 1882.
The Knights of Columbus
He discussed forming a Catholic lay society with Archbishop Lawrence McMahon, archbishop of Hartford.  Archbishop McMahon approved and Father McGivney travelled to Boston and New York to observe Catholic fraternal organizations in those areas.  On March 29, 1882, the state of Connecticut approved a charter for the originally-dubbed Sons of Columbus, named after Christopher Columbus.  Some of the original members, however, urged Father McGivney to rename the organization as the Knights of Columbus for the purpose of instilling a sense of nobility.  Their original two-fold mission was to provide financial security for Catholic families and nurture unity: their base values of charity and unity.  In later years, they added fraternity and patriotism to their core values.
In April 1882, with the blessing of the bishop, he issued a letter to all parishes in the Archdiocese of Hartford encouraging them to form their own councils.  The first officers were formally installed in May.  In 1883, a second council was formed.  The following year, Archbishop McMahon joined the Order himself with Council 11.  In 1884, Father McGivney was transferred to St. Thomas Church in Thomaston, just a few miles away from Waterbury.  He showed the same fervor and dedication to his parishioners as he did at St. Mary's and  for the further spread of the Order beyond Connecticut by personally working to institute councils in neighboring Rhode Island.   By December 1885, there were 31 councils.
Fr. McGivney contracted pneumonia in early 1890 and died on August 14, the Eve of the Immaculate Conception.  He was 38.  According to the McGivney Guild, his funeral was one of the largest in Waterbury history.  The bishop, around 70 priests, and numerous Knights and their families attended.  Although he appears cold and stern in photos, history recalls a joyful and loving soul. 
His Legacy: The Knights Today
Both Popes John Paul II and Benedict XVI were ardent supporters of the Knights of Columbus, with John Paul II having famously described them as "the strong right arm of the Church."  The Knights of Columbus are the largest lay society in the Church with over 1.8 million members.  On top of the $160 million in charity and 70 million man-hours of service that they give each year alone, they have responded to those suffering in the aftermaths of the September 11th terrorist attacks, the 2004 Indian Ocean tsunami, Hurricane Katrina, and most recently, Superstorm Sandy. 
They also have one of the strongest life insurance programs in the world.  In 2000, when Supreme Knight Carl A. Anderson took office, the insurance program had $40 billion in force.  Today, it has over $15 billion in assets $80 billion in force for insurance.  The Supreme Knight wants to double that by the time he hits his mandatory retirement age of 70.  He's 62.
The Knights of Columbus are especially needed today with their pro-life and pro-family apostolate, as well as their support for vocations and defense the institution of the priesthood.
His Cause For Sainthood
In 2008, Pope Benedict XVI moved Fr. McGivney along his path to sainthood by naming him a Venerable.  If you are interested in supporting his cause for sainthood, you can visit the McGivney Guild.  The Knights of Columbus may be the largest lay order in the Church and may give millions of dollars and man-hours in charity and service, but it all started in the basement of St. Mary's Church in New Haven, Connecticut with a young priest fueled by his love for the Church.  It all started with Father Michael J. McGivney.