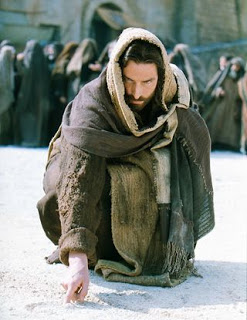 This Sunday's gospel presents us with the story of the woman caught in adultery (not, of course, the man).  The scribes and pharisees come to Jesus to test whether he'll be obedient to the law of Moses, which prescribed death for such a one, or to Roman laws, which outlawed capital punishment by anyone but the Romans.  It is that latter authority which the same scribes and pharisees will bend their knees towards to have this irksome carpenter crucified.
But of course, Jesus answers with the most unexpected answer: "Let he who is without sin throw the first stone."
Caught in the face of their own sinfulness, "they went away one by one, beginning with the elders."  (The world elder is, in Greek, πρεσβύτερος (presbuteros), the same word from whence we get the word "priest.")
In the end, she is left with the only one who had no sin, and he condemned her not.  (Cf: "Nor does the Father judge anyone, but he has given all judgment to his Son." (John 5:22))
But there's something else interesting here, that's always struck me.
A Curious Action
After they bring the woman to Jesus, looking to trap him, he seemingly ignores them, and instead moves to write upon the ground with his finger.
Jesus bent down and began to write on the ground with his finger.
But when they continued asking him, he straightened up and said to them, "Let the one among you who is without sin be the first to throw a stone at her."  Then this:
Again he bent down and wrote on the ground.
Some have made the argument that he was merely buying time, doodling in the sand as though he needed to collect his thoughts.  Being 100% man, in addition to 100% God, it's possible that such a lucid answer required thought.  But I doubt it.
Others have made the claim that he was showing his contempt for the pharisees by not even acknowledging them at first.  This, of course, would have him treating the woman in a somewhat callous way.
Another theory is that he wrote the woman's name: that there was a specific ordinance to be followed as part of the oral law passed down, that BOTH parties ought to be brought, their names written in the sand.  They only bring the woman because they don't care about fulfilling even their own law, but rather catching Jesus off guard and having a reason to kill him.  Of course, we know that they're out for blood already.  In fact, some have been since John 5:8, because "he not only broke the Sabbath but he also called God his own father, making himself equal to God."   John 7 begins with the following: "After this [the "bread of life" discourse from John 6], Jesus moved about within Galilee; but he did not wish to travel in Judea, because the Jews were trying to kill him."
One other interesting theory, rooted in a prophecy of Jeremiah, is that Christ wrote the names of the pharisees on the ground.  This has some speculative grounding: just prior to the stoning incident of John 8, in John 7, Jesus speaks of being a font of living water.  Then, starting at John 7:37:
On the last day, that great day of the feast, Jesus stood and cried out, saying, "If anyone thirsts, let him come to Me and drink. He who believes in Me, as the Scripture has said, out of his heart will flow rivers of living water." But this He spoke concerning the Spirit, whom those believing in Him would receive; for the Holy Spirit was not yet given, because Jesus was not yet glorified. Therefore many from the crowd, when they heard this saying, said, "Truly this is the Prophet." Others said, "This is the Christ." But some said, "Will the Christ come out of Galilee? Has not the Scripture said that the Christ comes from the seed of David and from the town of Bethlehem, where David was?" So there was a division among the people because of Him. Now some of them wanted to take Him, but no one laid hands on Him.
Now, some have seen an interesting parallel with what the prophet Jeremiah wrote: "O Lord, the hope of Israel, All who forsake You shall be ashamed. "Those who depart from Me Shall be written in the earth, Because they have forsaken the Lord, The fountain of living waters." (Jeremiah 17:13)
John 6:66 ended, saying "From this time many of his disciples turned back and no longer followed him."  So here we could have "whose who departed, forsaking the Lord, the fountain of living waters," having their names written on the ground.
So, is it possible that he was writing their names?  I think it's likely, although I also think being written in the earth may have a more figurative meaning, but it could be literal.  So what gives?
What Was He Writing, and Why?
The point is simply this: The one time we have record of Jesus writing something, nobody bothered to tell us WHAT it was, only that it happened.  Jesus didn't write anything down, that we have record of, other than this one time; and the medium he used was the most ephemeral of mediums: dirt which would be trodden upon and scattered before the day was done.
Certainly sacred writings (scripture) is important, but Jesus didn't give us ANY himself.  Nor did he give us a list of books to look for (i.e., the canon, which we'll discuss later).
Rather, Jesus slowly built up a church, giving them authority (Matt 9-10; 16; 18; John 20, etc).  That church would, in turn, give us scriptures and the certain knowledge of what books belonged (which is crucially important, as we'll see).
The content of his temporary dirt writings are lost to us.  Their content might be hinted at, but it was not viewed as necessary to record: the only thing that Christ wrote with his own finger!  Because he was at something much bigger than giving some more writings.
He gave commands to "do".